Fit Tips For Surviving Stampede
Fit Kitchen
The time of year has come again to dust off your cowboy hat, boots and belt buckle because the Calgary Stampede is in full swing. Whether you go for the rodeo, the rides, the shows, or the outrageous mid-way food, there's something for everyone at the "Greatest Outdoor Show on Earth".
Stampede is a blast but it often means longs days spent outside in the heat and long nights spent drinking or eating too much. We wanted to offer some tips and tricks to help you survive and stay healthy during Stampede this year.
Keep Your Cool
Anyone who's been to Stampede knows the feeling of exhaustion after spending a long day outside, waiting in lines on hot concrete with the sun beating down overhead. It is inevitable that you will get hot and sweaty but we have a few tips to help you cope and avoid feeling completely drained.
Wear a hat. If you're planning to be outside on the midway or grandstand between 9 am to 5 pm then a hat will be your best friend. Whether it's a cowboy hat or another hat of your choice, it will help keep the sun off and keep your face from burning.
Stay hydrated! If you're bringing a bag with you, pack your reusable water bottle and fill it up throughout the day at the various stations around the park. For a refreshing and healthy treat, why not throw in a bottle of Rviita Energy Tea too! If you don't bring your own water bottle, then budget some money to buy *non-alcoholic* drinks every couple hours because you're going to need them.
Keep up your electrolytes. On a hot day when you're sweating a lot and maybe drinking a few adult beverages, drinking water is often not enough to keep you hydrated. Taking electrolytes like LMNT (a new product on the Fit Kitchen site!) is a great way to get ahead of the dehydration and prevent it before it comes. We recommend mixing LMNT with your water in the morning and taking another pack with you to drink throughout the day.
Explore indoor activities during the hottest times of day. Check of the Market inside the BMO centre which has a variety of vendors and several stages. The Western Oasis is also a lesser known spot to stay cool on hot days. It is located at the back of the BMO centre and showcases western art along with a relaxing wine garden.
Bring sunscreen and wear light clothing, or layers. If you're heading out for a full day at the park, you never know what the weather might bring. It's a good idea to wear layers, so you can take them off as the day gets hotter and then put them back on in the evening. Keep in mind that dark coloured clothing absorbs heat, so on a hot day wearing light colours and light fabrics can be a life-saver.
If you want to bring items like jackets, umbrellas, water bottles, hats, etc. but not carry everything around, you can rent a locker for $5 a day. Lockers are located at both park entrances and in the Big Four building.
Eating Intuitively
With so much new and exciting food to try at the Stampede it can be hard to keep your eating and your budget under control. Even though I'm a nutritionist I'm just as excited as the next person to eat lots of delicious food at Stampede. I've included some tips below about how you can prevent a complete calorie overload so you can go home feeling satisfied but not sick.
Choose what you want to eat before you go. Having a plan and making priorities can prevent you from overindulging and buying everything you see. You can go to the following links to check out some of the food that will be offered this year: The Range Food Hall, New Midway Food .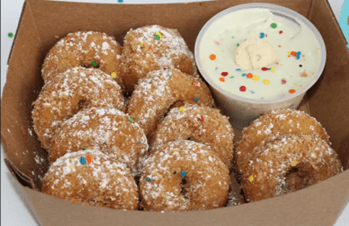 Bring your own food. Many people don't realize that you're allowed to bring your own food into the park. If you want to experience stampede on a budget, then this can be a great option. If you still want to try some midway food, think about just bringing lunch or a few snacks like fruit, nuts or energy balls. If you are bringing food, make sure it is in see-through plastic containers or bags that can be easily checked at security (glass containers are not allowed).
Choose smaller portion sizes or share with friends. Many of the sweet treats on the midway come in huge portion sizes that can easily fill you up and make you feel sick. If there are lots of things you want to try, then sharing with friends is a great way to go. Choosing smaller portion sizes can also help keep your eating and drinking under control.
We hope you learned a few new tips and tricks to help you have a fit and fun Stampede this year! Remember that it's okay to have a treat once in a while and that drinking a lemonade or having a couple mini donuts won't ruin your diet. Food and drinks are an important part of the cultural Stampede experience so there's no need to feel guilty about indulging.
When you aren't on the Stampede grounds or partying it up around the city, try to get at least 7-8 hours of sleep at night. That way you'll be well rested and ready to "Yahoo!" all over again. Also, don't let Stampede week completely ruin your routine. Make sure to keep exercising and eating well outside of the festivities.
Happy Stampeding!