Fun Fitness Ideas in Edmonton and Red Deer
Fit Kitchen
There are lots of ways to get moving this winter in and around Edmonton. If you're tired of the gym being packed and you don't feel like running inside on a treadmill, then these ideas are for you! Learn a new sport from parkour, to gymnastics, surfing, to ninja, and everything in between. Keep reading to find a fun new sport to help you stay fit this winter.
Fly Free Movement
Fly Free Movement is a parkour and calisthenics community and academy located in Edmonton. If you've ever watched videos of people jumping and flipping their way across rooftops, buildings and parks, then you've heard of the exciting sport of parkour! It's never too late to learn new skills and this parkour gym offers beginner parkour classes, as well as calisthenics classes, for adults. Although you won't hit the rooftops in these classes, you'll learn the basics with a coach in a controlled environment. You could also try dropping in to see what the sport is all about.
Location: 8303 Argyll Road NW Edmonton
Price: $15 to drop in, $240 for 10-weeks of beginner classes
Website: http://www.flyfreemovement.com/
Instagram: @flyfree.movement
World Waterpark Surf Club
Although we don't have any natural surfing beaches in Alberta, that doesn't mean you can't learn to surf here! The World Waterpark at West Edmonton Mall has its very own surf club that offers lessons and dedicated times to surf in the wave pool. This is an incredible opportunity to learn from the pros and develop a new skill. Not to mention, it's a killer core workout. One benefit to surfing at the water park is that the water is warm, no wetsuit required!
Locations: WEM World Waterpark – 8882 170 St NW, Edmonton
Price: $79 for 90 min lesson, $30 for surf club drop in (after taking a lesson)
Website: Surf Club  Facebook: https://www.facebook.com/wemsurf/
Edmonton Sport and Social Club
The Edmonton Sport and Social Club is the biggest organizer of co-ed adult sports in Edmonton. They offer adult, recreational leagues for over 23 different sports like basketball, dodgeball, badminton and darts. Do you ever wish you could go back to gym class or those days playing sports with your friends? You don't have to wish anymore, because this club has a team for you! Check out their website to see all the different sports and leagues they offer. Winter league registration closes on December 13th.
Location: All over Edmonton, depends on sport
Price: Depends on sport, about $130 per person for a 9-week league
Website: https://www.edmontonsportsclub.com/home Instagram: @edmontonssc  
Fitset Ninja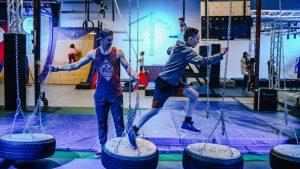 I think we've all seen American Ninja Warrior and wished we could give those obstacles a try. Now's your chance to try it yourself and put your fitness to the test at Fitset Ninja! This ninja gym has a wide variety of obstacles like warped walls, the salmon ladder, flying squirrel and wingnuts. If you don't know what these are then it's time to find out by booking your visit. You can take a class to learn about each obstacle or you can try them at your own pace in an open gym session.
Location: 11511 120 ST, Edmonton
Price: $20 for open gym, Free trial for 1 class, then $110 for 4 classes
Website: https://fitsetninja.com/ Instagram: @fitsetninja  
Phoenix Gymnastics Centre
Do you ever miss the feeling of freedom you had doing somersaults and cartwheels as a child? If so, then it might be time to give gymnastics another try! Phoenix Gymnastics offers classes once a week for adults as well as drop in times each week. Gymnastics is truly a full body workout that can't be replicated. Swing on the bars, balance across the beam and jump on the trampoline. Sounds like a fun workout to us!
Location: 9704 12 Ave SW, Edmonton
Price: $12 for drop in, $222 for 8 classes
Website: Phoenix Gymnastics Centre Instagram: @thephoenixgym
Trailhead Climbing and Fitness – Red Deer
Trailhead Climbing features a variety of walls, obstacles and training opportunities for both the beginner and experienced climber. They have a space for bouldering (climbing without a rope), tope rope and lead climbing (with a rope), as well as auto belays which are perfect if you don't know how to belay. Their modern facility also has a "Fun Zone" with 15 auto belays on unique challenges like a net wall, pole walk and a speed wall. This is a great activity for team building with colleagues or friends! You can also drop in any day and get climbing after a quick orientation. The gym offers all the equipment rentals you might need, so there's no excuse not to get climbing!
Location: #108 33 Mckenzie Cres, Red Deer
Price: $18 to drop in, $65 for recurring monthly membership
Website: https://trailheadclimbing.ca/ Instagram: @trailheadclimbingandfitness