Greens Powders, should I use them?
Fit Kitchen
Greens powders and greens supplements are everywhere these days. They're on your podcasts, on your social media, in the news and in your water bottles. But what are these magic powders made of and are they really so magic after all? In this blog post we will try to answer the biggest questions about greens powders and about Biosteel sport greens. What ingredients do they contain? What health benefits or risks do they pose?  Keep reading to learn more and to find out whether or not a greens powder should be added to your supplement regimen.
What are Greens Powders?
Greens powders can contain a wide range of ingredients but often include vegetables, fruits, antioxidants, probiotics and other health promoting ingredients. Instead of having to eat a handful of spinach or broccoli, these supplements make it easy for you by dehydrating the plants and then grinding them into a fine powder. These supplements are easy to mix into a glass of water, juice, or a smoothie.
What Sets Biosteel Sport Greens Apart?
Biosteel Sport Greens are a product we recently added to our Fit Shop on the Fit Kitchen website. This product contains 22 ingredients which are all derived from plants with no fillers or artificial colours, flavours or sweeteners. These tasty greens come in single serving packets available in two fresh flavours of Pineapple Coconut and Pomegranate Berry. The greens are sweetened with stevia and are completely non-GMO as well!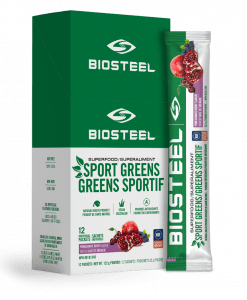 This supplement contains both land and sea greens, an antioxidant blend, a performance recovery complex and a digestion blend. Below are some of the key ingredients that set Biosteel Greens apart:
Spirulina (1.9 g present per serving) – Spirulina comes from an algae found in both salt and fresh water. It is known for its antioxidant effects, and other potential positive health effects on blood pressure, blood sugar control and cholesterol levels.
Turmeric (300 mg present per serving) – Turmeric is a spice which contains the powerful antioxidant and anti-inflammatory compound called curcumin. Its absorption can be increased when combined with black pepper which is also included in Biosteel sport greens!
Inulin (50 mg present per serving) – Inulin is a soluble fibre and a type of prebiotic which helps to feed the good bacteria in your gut. Inulin is often used to improve gut health and blood sugar regulation.
Leucine (1 g present per serving) – Leucine is a branched chain amino acid that plays a significant role in muscle protein synthesis and helps increase growth hormone.
The best news about Biosteel sport greens is that they're NSF Certified for Sport! This is important because supplements and herbal health products are not as tightly regulated as food or drugs are in Canada. Supplements can often contain ingredients not listed on the label and this can be dangerous both for your health and for your performance if you take part in a competitive sport. You don't have to worry about that with these greens because they have been tested by NSF to make sure they don't contain any substances banned by sports organizations.
Benefits and Risks of Greens Powders
Benefits:
Greens powders create an easy and convenient way to incorporate some extra nutrients, vitamins and minerals into your diet. They contain a wide variety of fruits, vegetables and antioxidant agents that you might not normally consume from your diet alone.
Starting your morning with a green drink can help boost your mood and establish your health routine for the day.
Some small studies have found that taking a greens supplement each day can reduce your blood pressure over time. Although these were small studies and more research is still needed, but this is promising news for the benefits of greens on our health!
Greens powders contain antioxidants, such as Vitamin C and E, which can help prevent chronic disease and inflammation when taken in large enough doses. Biosteel Sport Greens contains 16% of your daily Vitamin C needs.
Risks:
Replacing fruit and vegetables in your diet with a greens powder instead. The whole forms of fruit and veg contain essential nutrients, such as fibre and water, that are stripped out when you consume a vegetable in powdered form. Fibre is essential for gut health and it helps us feel full, while the water in produce helps our hydration status. It is important to continue eating plenty of fruit and veg every day, even if you take a greens supplement.
Limited research is available on both the health benefits and risks of greens powders. It seems that most of these supplements are safe but there could be interactions with drugs or with individual conditions that are still unclear. This also depends on the ingredients and amounts present in each greens product.
Heavy metals, such as lead, and other contaminating ingredients could be present in some greens powders. It is important to look for the NSF Certified for Sport logo on your product or another indicator of third-party testing which indicates that the product is safe and free from contaminants. Since Biosteel Sport Greens are tested by NSF, you don't have to worry about any heavy metals!
Depending on your individual health, starting any new supplement could be a risk for you. Be sure to consult your doctor before starting a new supplement, including a greens powder.
The Takeaway
All in all, greens powders can be a great addition to your supplement routine and can have many positive effects on your health. They are made from dehydrated vegetables, fruits, and other plant compounds that can add unique nutrients to your diet. There are many products out there but we love Biosteel Sports Greens because it comes in delicious fruit flavours, is high in both land and sea greens, and is NSF Certified for Sport. Check it out in our Fit Shop HERE and let us know if you have any questions!